Take control of your organization's travel expenses
Give your organization unprecedented visibility into T&E spending for improved convenience, control, planning and compliance.
Get a single view of all travel, expense and invoice-related spend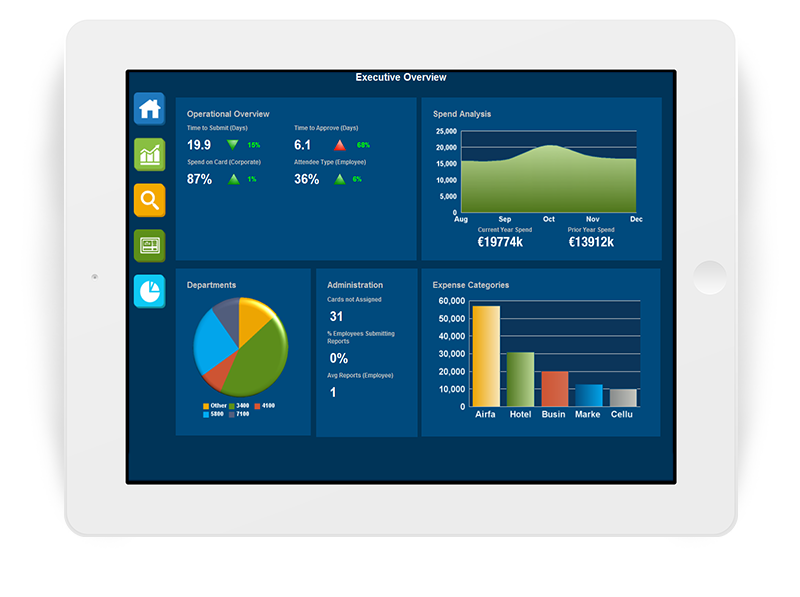 Concur makes it simple to automatically connect spend data from almost any source - from corporate credit card accounts to online travel sites and service providers - back to your core Concur solution.
Use real-time spending insights to make faster, better-informed business decisions
Take the guesswork out of T&E planning, forecasting, and budgeting
Flag and fix compliance issues before they cause problems
Cut out wasteful, error-prone manual data entry
Concur integrated solutions: the right fit for every organization
Concur offers additional cloud-based services that integrate seamlessly with our core solutions and with each other—without adding unwanted cost and complexity.
Capture every transaction
Company Bill Statements from Concur puts you in control of your P-Card program by capturing all card purchases, easily reconciling all transactions and supporting compliance with a full audit trail.
Effortlessly manage cash flow
Achieve a consolidated view into when and where payments are being made with Expense Pay and Invoice Pay, so you can control cash flow and no longer worry about late, missing or duplicate payments.
Contact us about a better way to handle spend management.
Complete the form to have a sales representative contact you, or call + 918010002299 today.
Thank you for contacting us about a better way to manage travel, expenses or invoices.
We have received your request for information, and we will be in touch with you soon.