Analytics
Consolidate your view of SAP Concur data in near real time with customizable reporting.
Get the insights you need to make better business decisions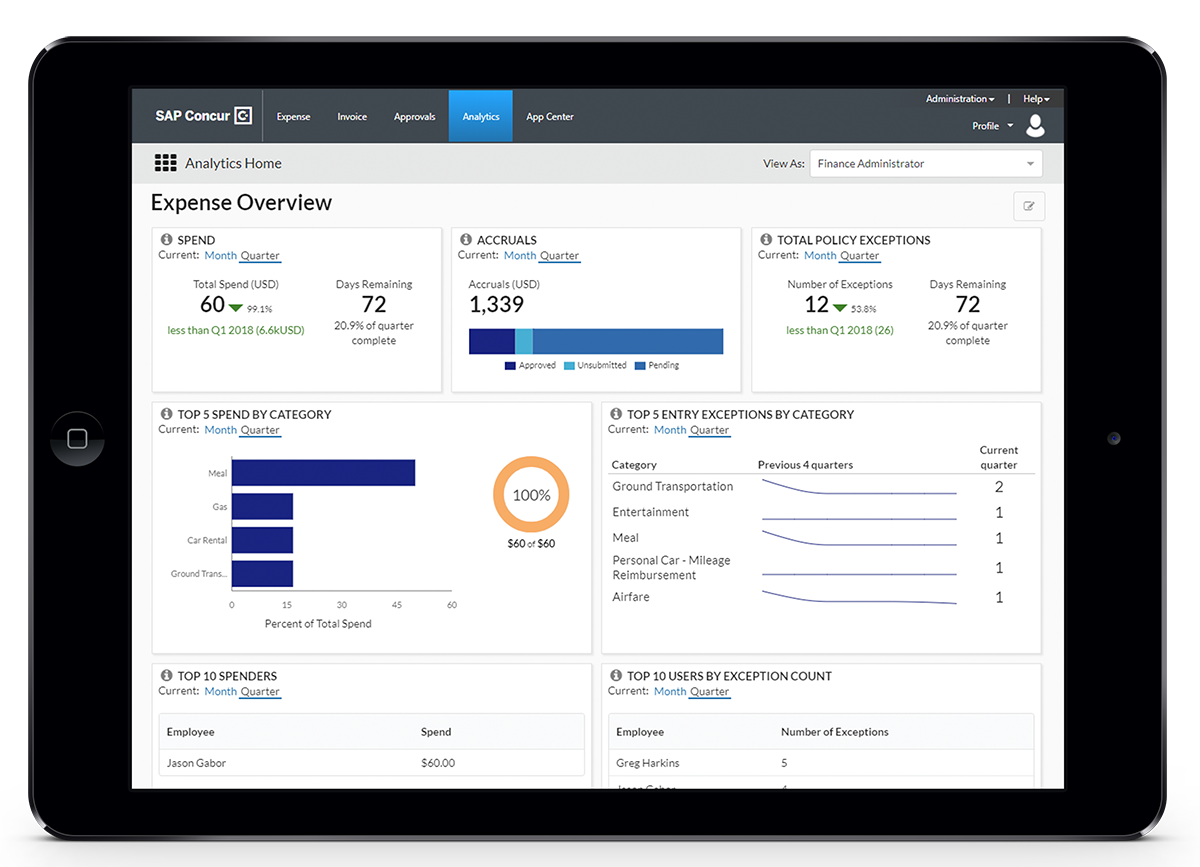 With a unified view of your SAP Concur data, you can empower key stakeholders with the information they need to understand and impact the bottom line. With Analytics you and your stakeholders can:
See data in near real time to drive actionable insights
Personalize views with interactive dashboards and reports
Manage spend proactively with alerts and reports delivered directly to inboxes
Features of Analytics
See a consolidated view of your spend data
Analytics collects and synthesizes data from your SAP Concur solutions for a single comprehensive view into your spend.
Access timely, accurate data when you need it
Your data is automatically refreshed in near real time so you can make decisions that directly impact cash flow.
Interact with your dashboards and reports
Analytics delivers digestible information at your fingertips in an intuitive format. Dynamically filter, group, or edit reports and dashboards to tailor information to your specific needs.
Share reports with key stakeholders
Conveniently schedule reports and distribute them to key stakeholders so they always have the right information at the right time.
Proactively manage spend with alerts
Stay on top of your spend to better manage your cash flow and spend against policy with scheduled alerts.
Bring in the experts with Analytics Reporting Services
Enhance your Analytics experience to get unlimited hours with reporting consultants who can help you develop your reporting strategy and add value.
Contact us about a better way to handle expense, travel, and invoice management
Complete the form to have a sales representative contact you, or call 1800-1020-650 today.
Thank you for contacting us about a better way to manage travel, expenses or invoices.
We have received your request for information, and we will be in touch with you soon.