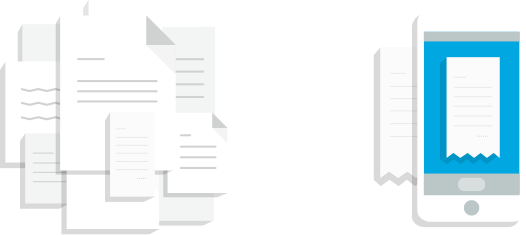 DID YOU KNOW?
T&E costs are the second most difficult operating expense line item for businesses to control.*
SO HOW DO YOU CONTROL IT?
Move away from paper receipts and spreadsheets. With an integrated, mobile T&E solution, employees can quickly and easily submit their trips and expenses. This gives organisations visibility into spend to ensure travel and expenses are compliant and to find opportunities to save costs.
"The Power Of Real-Time Insight", a commissioned study conducted by Forrester Consulting on behalf of Concur.
Streamlined—from start to finish.
Employees can easily book travel from a smartphone or desktop browser, while itineraries and credit card charges are automatically and accurately captured. The expense claim is nearly complete upon return, and audit and approval processes are faster, saving additional time and cost.
More accurate information.
With Concur Travel & Expense, data no longer has to be keyed in, multiple times in multiple systems. Instead, e-receipts from travel suppliers and receipts captured with the Concur mobile app automatically turn into expense line items, providing more accurate and timely information for finance teams. In fact, your Concur system can be customised to your company's travel and expense policy. So not only can out-of-compliance spend be easy to spot and prevent, it can sometimes even be prevented before it ever happens.
Smarter smart phones.
The Concur mobile travel and expense app helps everyone stay productive on the road. Need to change a flight or book a hotel or get a hire car at the last minute? The Concur mobile app makes it easy. Business travellers can even take photos of receipts, attach the images to expenses, and throw away the piles of paper.
A global solution.
Concur Travel & Expense supports multiple currencies and languages, integrates with multiple ERP systems, and can be customised to ensure compliance to your company's policy. Concur Expense automatically calculates the currency exchange rate, complex car-mileage allowances and VAT/GST/HST/FBT. Plus, Concur Travel includes content from multiple global distribution systems, negotiated and published fares, direct connects and web-only fares – offering a wide range of options for global business travellers.
Concur Travel and Expense has given us a lot better control... everything's in the system. Nothing gets lost. There's an automatic trail. And we were able to say, 'Within 14 days of your expenses being approved, you will have that money in your bank account'. And we've stuck to that.
Jayne Usher
Travel and Expense Accountant
Associated Press
Travel and expense
management trends: 2014
Where are you on the path to best-in-class travel and expense management? It's time to reevaluate existing strategies, overcome key challenges, and ensure a robust programme that balances core competencies and modern technology enablers. Learn more about the next generation of travel and expense integration in this Aberdeen white paper sponsored by Concur.
Download report