It was the year 1993. "Sleepless in Seattle" tugged at the hearts of romantics, people listened to music on Walkman's, Intel introduced the Pentium family of 32-bit microprocessors, and one of the world's most popular athletes, Michael Jordan, retired from basketball (the first time). People booked travel with an agent –online travel had not quite taken off – and business expenses were managed (at best) with Microsoft Excel. This tedious, and often frustrating process of dealing with a pile of receipts after a business trip, drove the creation of Concur by our founders Rajeev Singh, his brother Steve Singh, and friend Mike Hilton 25 years ago.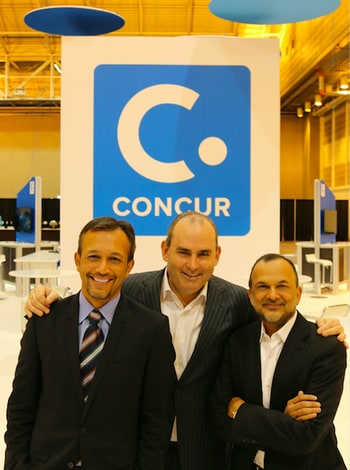 Concur founders
Concur was originally founded to solve this all-too-common problem of expense reporting. Since then, we have grown to offer a completely connected spend management solution surrounded by an ecosystem that adds even greater value to our customers and partners. We have evolved within an exciting and ever-changing industry that has played a critical role in the globalization of businesses, consumerization of IT, and ultimately the wider economy.
We are proud of what we have accomplished, and more importantly, humbled by the differences we have been able to make across our community of customers, partners and employees. We have and will always view our relationships with our customers and partners as a journey. One that begins with our ability and interest in helping them simplify processes, deliver solutions that users like, and deliver value as their business grows. Simply put, we improve how people work, which improves their lives. Every day, alongside our partners, we begin this journey with new customers, while we work hard to ensure our current customers build their future with us as a trusted company that can support them through every stage of growth.
One of our first offices circa 1994
As we reflect on 25 years, we are grateful for our opportunity to work with more than 42,000 customers and hundreds of partners throughout the world. We are also grateful for our 7,500+ employees who are the heartbeat of SAP Concur.
Together, with our customers and partners, we have a lot to look forward to. Looking ahead to our next 25 years as SAP Concur, we are inspired by new technological innovations such as machine learning (ML), artificial intelligence (AI), bots, and the Internet of Things (IoT). We will continue to grow our ecosystems of partners who enhance our platform. We are excited to see what is possible for customers as they transform their businesses into Intelligent Enterprises and, for our partners, as they continue offering solutions that meet specific market needs and take data to the next level. As always, we continue to be committed to the success of our customers and partners.
In honor of this milestone, THANK YOU to all our current and future customers and partners. We can't wait for what lies ahead!