Centralize Spend Data for Greater Visibility
PREMIUM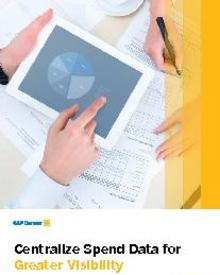 Spend management refers to the effective control and visibility of costs associated with company travel, employee expense, and supplier invoice processes.
Organizations providing professional services have larger workforces working on billable projects, and face problems tagging spend into appropriate spend type (billable/ non-billable), and to the right client or project. These organizations also need to keep a track of opportunity account to check the profitability of clients- which is not possible without near real time visibility into spend.
Gain access to all premium content once you fill out the form.
Please share some information about yourself to receive premium information that can help you solve the major travel and expense challenges businesses face today.
Concur respects your privacy. The information you provide us is intended for internal use only, and we will not share, sell, or distribute your information. View our privacy policy. You will receive educational information and news about Concur products and services.