Concur Drive
Automatically capture and document mileage, enforce policy compliance, and get visibility into your organization's spend.
Take control of spend with automatic distance capture
When employees self-report mileage, it can lead to errors, fraud, and unnecessary costs. Concur Drive captures mileage automatically to help your organization track and document distances with ease. With Concur Drive, you can:
Cut costs and reimburse employees accurately
Improve compliance and be ready for audits
Reduce fraud and reporting errors
Get visibility into every expense category
Easy as one, two, three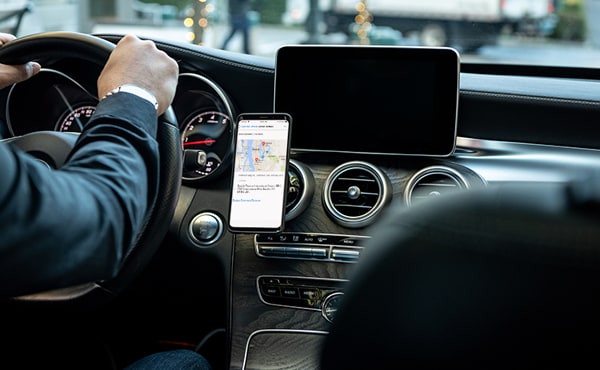 Concur Drive makes distance capture and expense reporting easy for employees on the move. Here's how it works.
In the SAP Concur mobile app, select "Mileage" and then "Auto Tracking" (You also have the option to manually start and stop distance capture)
When your trip ends, select "Move to Report" to add the distance to you expense report
Click "Submit Report"
Here's what you can do with Concur Drive
Separate business and personal travel
Mark a drive as either business or personal and easily remove personal trips from expense reports.
Track motion automatically with smart sensors
Smart sensors in an employee's mobile device track when their vehicle is in motion and captures distance automatically.
Automatically upload mileage to Concur Expense
Users can choose to automatically upload trips to Concur Expense, or you can get a reminder when a trip ends.
Switch between automatic and manual capture
Use auto-tracking to capture driving distances, or you can choose to start and stop distance capture manually.
Capture miles during work hours
Customize specific work hours and track vehicle starts and stops only while you're travelling for work.
Use Concur Drive globally
Concur Drive supports 12 languages and measures distances in miles and kilometers, so you can use it around the world.
SAP Concur has a better way to handle spend management
To hear from an SAP Concur representative, please complete the form or call us at 1800-1020-650.
Thank you for contacting us about a better way to manage travel, expenses or invoices
We have received your request for information, and we will be in touch with you soon.
Check out these related solutions
Concur Travel
Simplify the travel experience, increase compliance, and control your company's costs — all in one place.
Concur Expense
Integrating all of your expense data means that you can manage your company's spend anywhere, anytime.
Concur Invoice
From purchase requests to invoicing to payments. Save time and money when you automate your AP process.